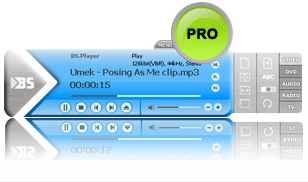 For Windows 98/ME/2000/XP/Vista/Windows 7 Version: 2.78 PRO
Cost:29.90 USD
Delivery:
DOWNLOAD
(please allow 2 working days for e-mail delivery) *
* INSTANT DOWNLOAD when using MasterCard SecureCode or Verified by Visa.

As registrated user of BS.Player PRO you will be eligible for e-mail technical support. Your personal data cannot and will not be accessed by third parties. The order process is protected by a secure (SSL) connection.

What does the BS.Player™ 2.78 PRO has to offer?
DVD support (playback DVD's from your computer)
Playback of AVCHD video


(Advanced Video Codec High Definition) format used in Canon, JVC, Panasonic, and Sony digital tapeless camcorders.)

Support for global multimedia keyboard keys
Play YouTube streaming including HD, High Quality and Normal resolution videonew
Save YouTube streaming video to local disk (YouTube downloader) new
Customizable Equalizer
Support for Capture/Tuner devices (and Teletext support)
Capture Video to file
Integrated subtitle editor
Network file buffering
Support for Flash playback
Technical e-mail support
Text "Only for Non-Commercial use" is not displayed in PRO version
Free one year subscription upgrade
You can use BS.Player PRO for all commercial purposes (presentations, government use, cinema...)
If you have any questions about purchasing BS.Player PRO please
contact us
.