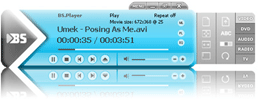 All new audio & video player but still FREE
Proceed to the download section and downloa your player now
New BS.Player ControlBar!
BS.Player ControlBar enables you to use BS.Player even more efficiently.

BS.Player ControlBar features:
Control buttons (Prev, Play, Stop, Next, Volume control) integrated into your web browser – now you will be able to control playback of your multimedia content directly from your web browser, even while surfing!
BS.Player Subtitles – find subtitles in every language for millions of videos!
BS.Player search – find quickly and effectively anything from our search page by using advanced Google™ search technology in the browser.
IP lookup – find out what is your current IP address.
Weather – current weather conditions and forecast in your city and region.
Listen to hundreds of different online radio stations from around the world.
BS.Player ControlBar installs in a matter of seconds. Don't worry, You can uninstall it easy and quickly at any time from the Control Panel.
BS.Player ControlBar was built using Conduit platform. Conduit is a leading provider of website syndication solutions for web publishers. Toolbars built on the Conduit platform are certified as a Safe Download by TRUSTe.
BS.Player ControlBar is committed to maintaining the following privacy practices:
No Spyware Policy : the BS.Player ControlBar (community toolbar) does not collect or transmit identifiable information and does not monitor toolbar usage.
The toolbar sends unidentifiable and non-personal statistical data to enable quality assurance and improve support processes. Such non-personal data includes unidentifiable usage of toolbar components and queries. You can opt not to send such statistical data at any time from your toolbar Options dialog box.
No Adware Policy : you will not be exposed to unwanted advertisements when you use the toolbar. The toolbar does not launch pop-up advertisements or any other type of obtrusive ads.
Unobtrusive : The toolbar does not enable other applications to access data stored on your computer's hard drive or in your online accounts. The toolbar does not modify pages you visit or modify your search experience. You may voluntarily opt to receive publisher notifications (such as desktop alerts).
Easy uninstall : you can easily uninstall the toolbar at any time using the toolbar's standard uninstall package (Add/Remove Programs in the Control Panel of Windows, Add-on Removal in Firefox, etc.).
Easy deactivation : you can easily deactivate your toolbar at any time by clicking the "View" menu in your browser and deselecting the name of the BS.Player community toolbar.
Full control : you have full control over your toolbar and you can add/remove toolbar components at any time using your toolbar's Options dialog box.
Report : BS.Player ControlBar is committed to ensuring your privacy and safety while using our community toolbar. If you have a reason to believe that your rights have been infringed upon, please email privacy@conduit.com and your application will be handled at the earliest convenience.