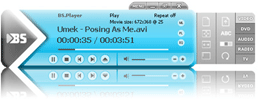 All new audio & video player but still FREE
Proceed to the download section and downloa your player now
A player to suit your needs
Ever since the very beginning in the year 2000, the BS.Player™ has been one of the world's most popular multimedia players. It is the first video player ever to enable its users to focus on watching the movie instead of dealing with poor computer capabilities or running around looking for a proper setting and codec. It is also the only media player which, despite its many years' tradition, remains loyal to its aimed quality.

BS.Player™ is used by more than 70 millions of users throughout the world and it has been translated into more than 90 languages. All the versions of our free player downloads surpass the sum of all downloads of competitive movie players and payable solutions. Because it does not use much of the processing power it is suitable for all those who use slightly less capable computers. The multimedia playback has not been – and will never be – disturbed by any annoying technical problems, much too often experienced with other software of this kind. And last but not least, the BS.Player™ is a product of global proportions, equipped with a treasury of subtitle editing possibilities, enabling you to view your multimedia files in full HD resolution, with subtitles in any language. Play your favourite DVDs with BS.Player PRO - supports playback of DVD movies not only from DVD discs but also from hard drives, folders, network drives... It also supports multiregion DVDs and surround sound technologies. Optimize your viewing experience with hardware acceleration and advanced de-interlacing of HD DVD movie for supreme video clarity.


From retro to modern
Our focus is on quality and practicability. The product of our principles was the first BS.Player™ look. You named it "retro" and it still seems to be highly popular with its users. And how do we know it? Many variations of the old original BS.Player™ skin still circle on the internet, and there is a large skin moding community of BS.Player™ users which add their own versions of the skins frequently.

A new look swept around the worldwide web in 2003, bringing along certain improvements of the player, an optimized way of using the media player's features and an easier way of accessing the function keys. A small change for you, but a giant leap for us.

Today you are looking at the newest, most modern and most revolutionary look of the BS.Player™. A new look a quality product like this deserves. Our goal at designing it was simplicity and modernity.