BSPlayer Megjelenési felületek (Skins)
BSP SkinMaker v1.07by Tizio
Welcome to BSP SkinMaker homepage (the one and only Skin Editor for BSplayer v1)
BSP SkinMaker is an handy tool to create and modify BS.Player v1 skins with few clicks of your mouse. You only need to draw the background and buttons images and after few more simple steps you'll have a fully working skin. I made this Skin Editor because I like BS.Player and because I read many posts from guys asking for help on making a new skin, and BSP SkinMaker is what you need to accomplish your requests.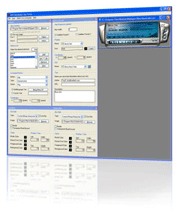 Main Features of BSP SkinMaker are:
XPstyle windows (requires WindowsXP)
Drag&Drop support
Command line support
Support for all BSplayer Skin formats (on loading)
Support for all BSplayer v1.00 Skin formats (on saving)
BSZ Skin files extraction/creation
2x Zoom Factor
Support for Multilanguage Buttons's Descriptions
Autogeneration of Multilanguage Buttons's Descriptions
Complete Step-by-Step User Guide
Multilingual (fully translatable)
Current languages:
English by Tizio
French by Talex
Italian by Tizio
Polish by Xeo
Portuguese by Thales
Swedish by Joni Johansson
What's New v1.07 14-05-2007:
+ Visible Drag&Drop (press CTRL when dragging)
+ Menu to select background color for Any Shape skins
+ Added hourglass cursor when zooming
+ Added Polski and Swedish languages
* Changed the program icon
* Updated the Actions list
* HomePage changed to
http://bsplayer.com/en/bs.player/skins/skin_maker/
- Not working translation for fullscreen track bar label (Left:)
- Fixed an overflow bug
What's New v1.06 21-08-2005: (Full Version History):
+ Support for "About" conversion from Old skins
+ Ability to set the BackGround color of Any Shape Skins
* Improved Old skins conversion
* Some other code improvements
- Update color issue for Transparent Bars
- Error if StatTxt not used in Old Skin [FullScreen]
ToDo List 14-05-2007:
+ EQ, ML, PL
+ Dynamic Actions list
- Error when opening FullScreen skin from BSZ files (I have to look into this)
ToDo List 15-10-2006:
+ Visible Drag&Drop (done)
+ Menu to select background color for Any Shape skins (done)
+ Blend Buttons (done)
* Redraw the Main Icon (made few tries)
- Error when opening FullScreen skin from BSZ files (I have to look into this when I will have more time)
Remember that if you want to read the Program Guide you must have Acrobat reader installed.
You also need "MSVBVM60.DLL" to run the program (you should already have this file since it comes with the Windows installation. If you don't have it click on the link or make an Internet search).
Enjoy!
For any reaction or comments regarding BSP Skinmaker, please click here, so that your reaction/comment is added to the separate post created for this purpose.
If you wish to read all earlier reactions/comments click here.
If you want to submit a translation of BSP SkinMaker to let other users to use it in your language, send me your translated file at the e-mail address indicated at bottom of License file and I will add it in the next program release. (Tiziano Brusa © 2006)